Check out the what's on offer on our "MENUS" Page.
CAMPAIGN FOR REAL ALE
WINNER OF PUB OF THE YEAR 2020, 2018, 2016, 2015, 2014 & 2013
SOUTH STAFFORDSHIRE 
Awarded to
AIMEE & DAN
Set in the beautiful rolling countryside of South Staffordshire at the foot of the National Trust's Kinver Edge, The Cat Inn, with our well-kept selection of Enville Ales along with constantly changing guest beers, is a haven for beer lovers and a well-situated watering hole for cyclists and walkers alike.
Please go to our "Ales" page to see what we have on offer this week and also what's coming soon.
We offer welcoming open fires in winter-time and a beautifully picturesque courtyard and garden for sunny days.  
If you enjoy good food made from fresh locally sourced ingredients cooked in the pub, then we think this handsome village establishment will tick all your boxes.  
Please feel free to bring your dogs too, we are a very dog-friendly pub!
Please note: It is advisable to book on weekends for food.
 GREAT NEWS WE ARE OPENING INSIDE ON MONDAY 17TH MAY 2021 & ARE ALSO NOW TAKING FUNCTION ROOM BOOKINGS FOR NO MORE THEN 30 PEOPLE 
We will be opening our inside finally on Monday 17th May 2021
Please find below the measures we have put in place.
* We have created a one way system through the pub.
* Booked tables inside only
* 1.5meter distancing between tables and everything will be thoroughly cleaned between sittings.
* We will be running table service and a member of staff will come to you for inside , guidance for outside will be told to you on the day.
* While we are adjusting to reopening we are not running a Sunday Lunch menu, our menu will be the same for day and night but only for a couple of weeks hopefully.

We know this is all a little bit different to how we are usually up and running but we want to ensure we are doing our best with the current situation while keeping everyone safe, We thank you in advance for your support again over the last few months.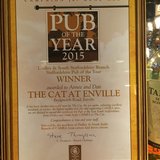 Pub of the Year Award 2015

(561.8 KB)