Check out the what's on offer on our "MENUS" Page.
CAMPAIGN FOR REAL ALE
WINNER OF PUB OF THE YEAR 2020, 2018, 2016, 2015, 2014 & 2013
SOUTH STAFFORDSHIRE 
Awarded to
AIMEE & DAN
Set in the beautiful rolling countryside of South Staffordshire at the foot of the National Trust's Kinver Edge, The Cat Inn, with our well-kept selection of Enville Ales along with constantly changing guest beers, is a haven for beer lovers and a well-situated watering hole for cyclists and walkers alike.
Please go to our "Ales" page to see what we have on offer this week and also what's coming soon.
We offer welcoming open fires in winter-time and a beautifully picturesque courtyard and garden for sunny days.  
If you enjoy good food made from fresh locally sourced ingredients cooked in the pub, then we think this handsome village establishment will tick all your boxes.  
Please feel free to bring your dogs too, we are a very dog-friendly pub!
Please note: It is advisable to book on weekends for food.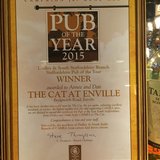 Pub of the Year Award 2015

(561.8 KB)